Why Environmental Activists Broke Into Paris Airport and Painted a Plane Green
Overview
Last Friday, a group of nine climate change activists from the organization Greenpeace broke into Paris Charles de Gaulle Airport and painted an Air France 777-200ER green. The activists scaled the airport fence with ladders early in the morning and were able to gain access to the airport tarmac and vandalize the plane. The aircraft vandalized was registered F-GSPB and had been stored since March of last year. Activists also climbed onto the wing of the Boeing 777 and held up signs that read, "Is there a pilot to save the climate?" The activists were then arrested from the airport and detained after security reached them. In this article, we will discuss why members of Greenpeace, a seemingly ethical and charitable organization, performed such an unlawful stunt.
What is Greenpeace?
Greenpeace is an international non-profit climate-change organization that aims to "defend the natural world and promote peace by investigating, exposing, and confronting environmental abuse, championing environmentally responsible solutions, and advocating for the rights and well-being of all people," according to their website. Greenpeace consists of 55 different countries and is one of the largest environmental organizations. Greenpeace claims to use "non-violent" actions to spread awareness for protecting the environment and to promote a cleaner and more environmentally-friendly world. Throughout their 50-year history, Greenpeace has done many charitable acts to fight climate change, but they have also committed a few extreme and unlawful actions in the past.
Motives For Vandalization
Greenpeace claims that its vandalization of the Boeing 777 was a response to the government's "greenwashing" of air transport, which means that they believe the government was misleading people into thinking that air transport is environmentally friendly. The actions of Greenpeace were also planned a few days ahead of the debate on the climate and resilience bill in the French Parliament. Lawmakers in France would debate a law that would prohibit domestic flights in France when there is an alternative train route of fewer than two hours. Greenpeace wants to support the decision and reduce air traffic and airport expansion projects in France. Greenpeace also wants airlines to reduce carbon emissions significantly. Essentially, Greenpeace painted an aircraft green to literally denounce "greenwashing" of the air transport and to support the debate on the climate bill.
---
While the actions of Greenpeace may not have been fully supported, they have certainly attracted the attention of the public and brought publicity to the topic. Greenpeace's vandalization of a $306 million aircraft was probably not the most effective way to communicate their beliefs and opinions on the impacts of the aviation industry on climate change. Their actions are not going to change the outcome of the climate bill and have only brought scrutiny to a previously trustworthy organization. Greenpeace's alleged claims about the government "greenwashing" are also not entirely true, as the National Airline Pilots Union (SNPL) responded to the stunt by saying, "Today, companies buy planes that consume between 2 and 3 liters per passenger per 100 km, which is the consumption of a hybrid car." The SNPL showed that the aviation industry is not as environmentally harmful as Greenpeace thought.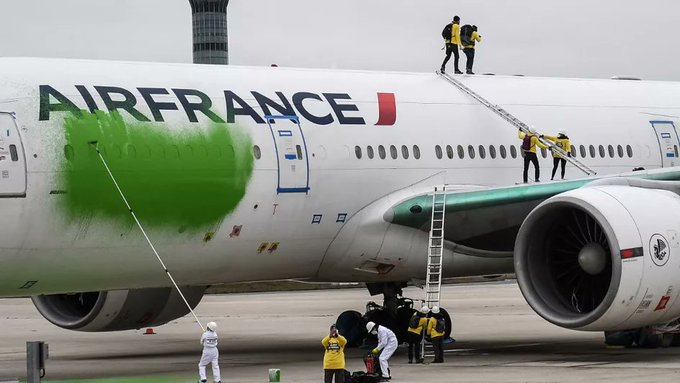 In the aftermath of the intrusion, the SNPL also responded to the stunt by mentioning how it would have a reverse effect on the environment by inflicting heavy costs to clean the plane. Concerns over airport security have also been raised as a result of this stunt, and costs will be needed to investigate how activists were able to get into the airport. It is unclear if Greenpeace will be facing any legal action, but they will most likely be involved in some kind of punishment. The nine demonstrators who were involved in the vandalization of the 777 have been arrested though. In the end, the aviation industry is not as harmful to the environment as people think, and more ways to make air travel more efficient are constantly being developed.
---
Sources:
https://abcnews.go.com/International/wireStory/greenpeace-paints-air-france-jet-green-daring-eco-76279140
.https://onemileatatime.com/air-france-777-vandalized-greenpeace
https://www.euronews.com/2021/03/05/greenpeace-stunt-as-aircraft-painted-green-in-protest-over-france-s-climate-crisis-respons
Cover photo: Good Word News
IATA's Alarm: Airline Profit Margins Remain Alarmingly Thin
IATA's Director General, Willie Walsh, recently gave a wake-up call to the aviation industry about the precarious state of airline profit margins. His revelations were part of a broader discussion at IATA's 79th Annual General Meeting and World Air Transport Summit, held in Istanbul, Türkiye.
The Current Profit Situation
This year, the aviation industry anticipates an astounding $803 billion in revenues. However, a shocking revelation is that only $9.8 billion of this colossal figure will translate into net profit. This means that, on average, the profit per passenger is a meager $2.25, an amount that can't even cover the cost of a subway ticket in New York City. "Clearly, that level of profitability is not sustainable," warned Walsh. Yet, he acknowledged the powerful recovery velocity, comparing it favorably to the $76 loss per passenger in 2020.
Identifying Major Hurdles
Walsh went on to elaborate the significant hurdles facing the industry. These include rising inflation, increasing operating costs, and enduring labor shortages. Along with these fundamental challenges, the industry is wrestling with specific pressures from OEM suppliers and oil companies. Walsh's critique of OEM suppliers centered around their slow response to supply chain disruptions, which are both escalating costs and limiting aircraft deployment. "Airlines are beyond frustrated. A solution must be found," Walsh expressed, reflecting the mounting exasperation within the industry.
Alongside the supply chain predicaments, Walsh pointed fingers at oil companies. He accused them of thriving at the airlines' expense, noting that the crack spread for jet fuel was at record highs for most of 2022.
Walsh also didn't hold back in his criticism of certain airports for shifting their operational inefficiency costs onto airlines. He singled out Schiphol Airport for its egregious 37% charges hike spread over three years—with a 12% increase this year alone. He also flagged concerns around South African airports and ATC's shocking 63% charges increase proposal.
Despite the enormity of these challenges, Walsh applauded the airline industry for maintaining profitability. He ended his speech with a powerful call to arms for increased accountability and stricter economic regulation for monopoly suppliers. In light of his critique, calls for lighter regulation should be dismissed outright.
READ Also: Riyadh Air Reveals New Livery and Receives IATA Code RX
The question that remains is: How can airlines and other stakeholders address these challenges to strengthen the airline profit margins? Your thoughts and opinions matter, share them in the comments section below.
Riyadh Air Reveals New Livery and Receives IATA Code RX
Saudi Arabia's newest airline, Riyadh Air, continues to make significant strides since its launch. Not only has the airline been assigned the Airline Designator Code RX by the International Air Transport Association (IATA), marking its official engagement with the global airline community, but it has also recently unveiled the first of its two livery designs. In this article, we delve into the exciting reveal of Riyadh Air's new livery and the airline's acquisition of the IATA Code RX.
This design, a perfect blend of cutting-edge technology and timeless elegance, embodies the airline's vision for the future of flight. These developments underscore Riyadh Air's commitment to innovation and sophistication in its operations, promising an exciting future for the airline and its passengers.
Riyadh Air Acquires IATA Designator Code
The IATA code was acquired during the 79th IATA Annual General Meeting (AGM) and World Air Transport Summit, which took place in Istanbul on June 4, 2023. Tony Douglas, the airline's chief executive, expressed his enthusiasm for this development, stating that the code would be visible on "every touchpoint that our guests see as they take flight with us." He further added that the Riyadh Air team has been actively engaging with industry stakeholders and experts to discuss safe, efficient, and technologically advanced topics in the global air travel industry. The code reflects the airline's ambition to be a digitally led airline, having the connection of innovation and state-of-the-art technology.
IATA codes play a significant role in the travel industry and the efficient organization of air transportation for both passengers and cargo. These codes are essential for airline identification, international bookings, and the smooth operation of ground service teams at airports.
Unveiling of Riyadh Air's Livery Design
In a recent development, Riyadh Air has unveiled the first of its two livery designs. The design is a perfect blend of cutting-edge technology and timeless elegance, embodying the airline's vision for the future of flight. This reveal further emphasizes Riyadh Air's commitment to innovation and sophistication in its operations, promising an exciting future for the airline and its passengers.
Riyadh Air's Strategic Positioning and Future Plans
Riyadh Air, which was officially unveiled in March 2023, is a part of Saudi Arabia's Vision 2030 investment plan. The airline was established to leverage the country's strategic location as a hub connecting Asia, Africa, and Europe, promoting growth and economic diversification in Saudi Arabia. Owned by the Public Investment Fund of the nation, Riyadh Air has outlined its plans to begin commercial operations in early 2025. The airline aims to establish connectivity between Saudi Arabia and 100 destinations by 2030.
In its ambitious plans, Riyadh Air is expected to add $20 billion to the country's non-oil GDP growth and produce over 200,000 jobs both directly and indirectly. The airline's career webpage has already attracted job applications from over 300,000 applicants across 182 countries worldwide.
Potential Aircraft Orders and Future Fleet
There are also speculations about a potential hefty order for 737 MAX aircraft. Although Airbus is being considered a potential supplier for a portion of the required single-aisle aircraft, namely the A321neo models, Boeing appears to have an advantage. This news comes just two months after Riyadh Air announced a major order for 72 Boeing 787-9 Dreamliner widebodies. Previous reports indicated that the new airline was nearing a potential purchase deal with Airbus for A350 widebodies.
READ ALSO: Riyadh Air and Saudia to Purchase 78 Boeing 787 Dreamliner Aircraft
In conclusion, Riyadh Air's acquisition of the IATA code and the unveiling of its livery design mark significant steps in its journey towards becoming a major player in the global aviation industry. With its ambitious plans and strategic positioning, the airline is set to make a significant impact on Saudi Arabia's economy and the global aviation landscape.
Air Algérie Airbus Order: A330-900s and A350-1000s Join the Fleet
In a substantial stride forward, Air Algérie, Algeria's flagship airline, recently confirmed an Airbus order for seven widebody aircraft. This move not only underscores its deep-rooted association with Airbus but also paves the way for its ambitious commercial growth.
A330neo and A350-1000: Powering Air Algérie's Airbus Order
Central to Air Algérie's Airbus order are the A330neo and the A350-1000. Incorporating these aircraft into the fleet promises flexibility, efficiency, and lower operating costs, including a 25% reduction in fuel burn per seat.
Both these aircraft are equipped with the award-winning Airspace cabin, known for its superior comfort and ambiance. Increased personal space, expanded overhead bins, state-of-the-art lighting system, and access to the latest in-flight entertainment and connectivity systems are notable features.
Spotlight on A330neo and A350
The A330neo and A350 are prominent members of the Airbus widebody family. The A330neo, powered by Rolls-Royce Trent 7000 engines, boasts a non-stop flight range of 7,200 nm / 13,334 km. As of April 2023, the A330 Family had amassed 1,775 firm orders from 130 global customers, signifying its popularity in the short and medium-haul market.
The A350, a modern long-haul aircraft, runs on Rolls-Royce's innovative Trent XWB engines. Capable of non-stop flights of up to 8,700 nautical miles or 16,100 kilometers, the A350 had garnered 967 firm orders from 54 customers worldwide as of April 2023.
READ ALSO: Airbus A350 Freighter Delivery Delayed to Early 2026
Looking Ahead: Air Algérie's Airbus Order and Its Impact
This significant Air Algérie Airbus order is a testament to its commitment to growth and improving passenger experience. With the integration of the A330neo and A350-1000, we eagerly anticipate the airline's expanded services. What new routes are you most excited about? Share your views in the comments section below!