Retired Delta 777 Converted Into Sports Team Plane
A retired Delta 777-200ER has found a new life after being picked up by a new owner recently. Delta's 777s were retired back in October of 2020 due to low usage during the COVID-19 pandemic, and many of them were less than 20 years of age at the time. Many considered these 777s too early to be decommissioned when the retirement was announced. One of the 777s, N867DA, has fortunately been repurposed after over a year in storage as a private jet for the Arizona Cardinals NFL team.
Why They Bought The 777
NFL teams travel frequently to attend games in other states. In fact, the Cardinals have travelled 109,277 miles within the last 5 years, and plan to fly a total of 22,186 this season. To commute to games across the United States, NFL teams usually charter flights from mainstream airlines. These charters can be expensive and take a massive toll on the team's budget over time. As a result, it is cheaper and more convenient to fly with a private plane than to charter multiple flights over a season. By owning a private plane, the team can also avoid the logistics and process of chartering a flight. Using a private jet also comes with its disadvantages though. If the plane is not operational or if there are issues with the plane at one time, there is no replacement. Additionally, the Cardinals will have to find their own crew to operate the plane instead of it already being provided for in a charter. It is undisclosed how much the team paid for the 777.
Interior of the 777
The Cardinals are keeping the same interior that delta had for the plane before it was retired. This means that there will be 28 Delta One seats, 48 Comfort Plus seats, 212 economy seats. The Delta One seats can be laid back completely and have panels that surround the seat for privacy. This will be much more comfortable and spacious for the members of the Arizona Cardinals, as some of their players are over 300 pounds in weight. While the interior of the plane hasn't changed from its previous operator, the outside of the plane has gone through an entire makeover.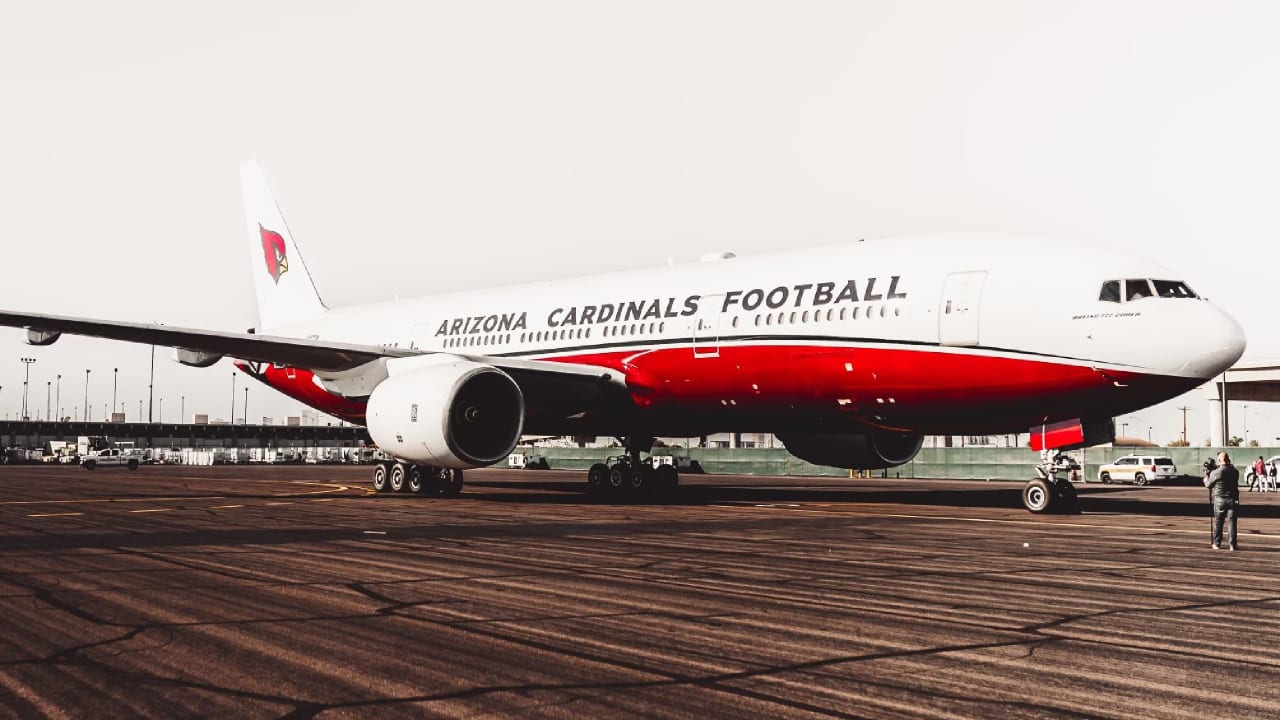 What the Cardinals Used to Fly On
Before purchasing one of Delta's 777s, the NFL team flew on chartered Atlas Air 747s, and before that, the team travelled with U.S Airways and American West Airlines before both of them ceased operations. The Cardinals had special liveries with these airlines that displayed their logo on the body of the plane. The Cardinals are now the second team in the NFL to own a private plane. The New England Patriots purchased 2 Boeing 767s back in 2017.
As of today, the Cardinals have already used the 777 a couple of times now to travel between games. The Cardinals' rescue of this 777 from retirement is a great revival and story for the plane, and the team will be sure to put the 777 to use for the seasons to come.
---
Sources
American Airlines Airbus A319 Diverts to Memphis After Engine Shutdown: An In-Depth Look
An American Airlines Airbus A319, operated by Fort Worth-based American Airlines, encountered engine problems mid-flight, resulting in an emergency landing at Memphis International Airport. The incident occurred during a scheduled flight from Memphis to Phoenix and necessitated the presence of emergency responders.
Details of the Incident
On Wednesday, August 16th, Flight AA1182, with registration N821AW, took off from Memphis International Airport as scheduled. However, shortly after reaching its cruising altitude of 34,000 feet, the flight crew received a stall indication for the right-hand engine. In response, the engine was shut down, and the decision was made to divert the aircraft back to Memphis.
Flightradar24.com data captured the flight path of the aircraft during the incident. After takeoff, the A319 climbed rapidly and banked west over Downtown Memphis. It crossed the Mississippi River and continued towards its cruising altitude. However, just one minute after reaching this altitude, the aircraft initiated a turn back toward Memphis and began descending. It then briefly paused at a lower altitude before continuing eastward and descending again. The plane turned slightly south before reaching the Mississippi River once more. Finally, it flew at a low altitude and safely landed back at Memphis International Airport.
The History of the Aircraft
N821AW, which performed the ill-fated flight, has a long history of service. It took its first flight in December 2000 and was initially delivered to America West Airlines. Following the merger of America West and US Airways in 2007, the aircraft continued to operate under the US Airways brand. In 2015, after the dissolution of US Airways, it began flying under the American Airlines brand. Over its years of service, the aircraft has primarily operated out of Phoenix.
Recurring Engine Troubles
The recent incident is not an isolated occurrence for N821AW. In 2019, the aircraft diverted to Montgomery, Alabama, during a flight from Charleston, South Carolina, to Dallas/Fort Worth. On that occasion, the flight crew reported engine issues, and subsequent investigation revealed a missing cowling on one of the engines.
The Implications
The recurring engine problems faced by N821AW raise concerns about the overall reliability and safety of the aircraft. The incidents prompted a need for a thorough investigation and appropriate measures to address the root causes of these issues. American Airlines will undoubtedly prioritize passenger safety and take necessary steps to ensure the continued airworthiness of its fleets.
The emergency landing of the American Airlines Airbus A319 highlights the challenges associated with aging aircraft. The incident emphasizes the importance of diligent maintenance and inspection procedures to detect and address potential issues promptly. As the aviation industry prioritizes passenger safety, it is crucial for airlines to prioritize the reliability and performance of their fleets, ensuring a safe and comfortable travel experience for passengers.
Have you ever experienced a flight diversion or emergency landing? Share your story with us.
Also, you might be interested in reading: Flight Review: easyJet Airbus A319- London Gatwick to Salzburg Airport
United Airlines' $1.25 Million Investment Empowers STEM Education in Schools
United Airlines has announced a remarkable initiative to allocate $1.25 million towards funding various STEM projects in schools across selected cities. By teaming up with the nonprofit organization DonorsChoose, the airline aims to assist educators and families in coping with the escalating costs of classroom supplies and resources.
DonorsChoose: Empowering Educators Since 2000
DonorsChoose, initially founded by Bronx public high school teacher Charles Best in 2000, has evolved into a significant platform connecting public school teachers with individuals interested in supporting their classroom projects. Recognizing that teachers were spending an average of $500 annually out of pocket for project materials, Best established the website where educators could request funding for necessary resources. With rigorous project vetting and transparent reporting, DonorsChoose has successfully funded over two million projects.
United Airlines Takes Flight in STEM Education
United Airlines' generous donation will specifically fund aviation-themed classroom projects posted on the DonorsChoose website. The funding will benefit schools in cities such as Chicago, Denver, Washington DC, New York, Houston, San Francisco, Los Angeles, Phoenix, and Hawaii. Aviation maintenance projects may receive materials such as safety glasses and industrial first-aid kits, while introductory aviation projects may be supported with relevant reading books. United Airlines' Senior Vice President and Chief Communications Officer, Josh Earnest, emphasizes the airline's commitment to inspiring the next generation of aviators.
Extending Support to the STEM Field
In addition to aviation projects, the remaining funds will be utilized in a matching campaign to support STEM-focused initiatives in the chosen cities. This broader support will encompass a range of resources, including board games to enhance mathematics comprehension, Lego Education sets and 3D printers to bring science to life, and improved classroom furniture to create conducive learning environments. United Airlines' contribution aims to foster young minds and empower future scientists, aviators, and engineers.
Seamless Application Process for Teachers
Teachers in the selected cities interested in submitting their projects for funding consideration can visit the DonorsChoose website and complete the necessary verification process. With United Airlines' substantial contribution, countless projects are expected to be swiftly and fully funded, enriching the lives of numerous students. Materials such as books, furniture, headphones, and other educational tools play a vital role in enhancing students' learning experiences.
United Airlines' Dedication to Educational Enrichment
United Airlines' investment in STEM education reflects its unwavering commitment to making a positive impact in communities. By empowering teachers and students through funding, the airline supports the growth of careers in the fields of science, aviation, technology, engineering, and mathematics. Alix Guerrier, CEO of DonorsChoose, recognizes the potential of this partnership in nurturing the aspirations of future professionals.
Transforming Classrooms, Transforming Lives
The collaboration between United Airlines and DonorsChoose demonstrates the significant influence that corporate support can have on education. As students prepare to return to school, the availability of essential resources can make a profound difference in their learning journey. Through this initiative, United Airlines is helping to create a brighter future by equipping classrooms and inspiring the next generation of innovators, problem-solvers, and leaders.
In conclusion, United Airlines' investment of $1.25 million in funding STEM projects through DonorsChoose showcases its dedication to educational enrichment. By supporting teachers and students in selected cities, the airline aims to provide essential resources and inspire young minds. This partnership exemplifies the power of collaboration in transforming classrooms and shaping the trajectory of students' lives.
How do you think funding aviation-themed projects in schools can inspire and engage students in STEM fields?
Also, you might be interested in reading: Emirates & United Airlines Announce a Codeshare Agreement
LATAM Airlines Pilot Dies En Route from Miami to Santiago
In a rare and tragic incident, a LATAM Airlines pilot passed away mid-flight during a scheduled journey from Miami to Santiago. The flight was diverted to Panama City following the pilot's incapacitation, where he was subsequently pronounced dead.
The Unfortunate Turn of Events
LATAM Airlines' flight, with the call sign LA505, departed from Miami International Airport heading to Santiago de Chile, the capital of Chile, on Monday, August 14th. The Boeing 787-9 Dreamliner, bearing the registration CC-BGI, had 271 passengers on board. Approximately three hours into the flight, the commanding pilot, Captain Ivan Andaur, began to feel unwell.
As reported by The Aviation Herald, while cruising at an altitude of 37,000ft, Captain Andaur left the cockpit to visit the bathroom. Tragically, he collapsed soon after, and despite the immediate efforts of fellow crew members to assist him, the captain's condition deteriorated.
Recognizing the gravity of the situation, the remaining flight crew, which included a relief captain and a first officer, made the critical decision to divert the plane to Tocumen International Airport in Panama City. Just 28 minutes after the decision was made, the aircraft safely touched down on runway 03L.Once on the ground, medical teams arrived promptly. However, Captain Andaur, who had dedicated 25 years of his life to flying with LATAM, was declared dead.
LATAM's Statement on the Incident
Expressing deep sorrow over the tragic turn of events, LATAM Airlines issued an official statement:
" LATAM Airlines Group is devastated to report that our flight LA505, en route from Miami to Santiago, had to be diverted to Tocumen International Airport in Panama due to a medical emergency concerning one of our flight crew members. Despite immediate medical intervention upon landing, our beloved pilot unfortunately passed away." LATAM Airlines
The statement further read,
" The loss deeply affects us, and our heartfelt condolences go out to our employee's family. We remember and honor his 25-year-long service marked by dedication, professionalism, and commitment. During the flight, every necessary safety protocol was diligently followed to prioritize the affected pilot's life." LATAM Airlines
After the unfortunate incident, the flight finally left Panama City on Tuesday, August 15th, at 17:24 local time. It safely reached Santiago later that evening at 23:55, with a delay of 5 hours and 31 minutes.
We, at Aviation for Aviators, are deeply saddened by the tragic event surrounding LA505. We extend our sincerest condolences to Captain Andaur's family, friends, and all of the LATAM staff.